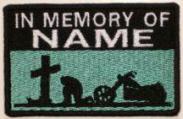 In Memory Of Patch 1 Line Cross and Motorcycle Rider - Aqua
TropiCool Accents Custom Embroidery
$8.00
8.00
In Memory Of Patch
1 Line Cross and Motorcycle Rider
Aqua Green Sky
SKU IMPCMP1Line-AquaSky
More Details
In Memory Of Patch - Cross and Motorcycle Rider - Aqua Green

Approx Size: 3.85"W x 2.5"H
This patch will come with an LT. AQUA GREEN SKY. Very Striking and will surely be noticed.
Be Sure to pick the Background, Border and Text Colors when ordering.

You can order these also WITHOUT the In Memory Of and have the NAME and ROADNAME instead.
The Sky color, and that is what surrounds the biker and cross and motorcycle. That does not get changed. The four sky colors I have showing ( silver, midnight blue, lt. brown, and aqua green on the patches are specially dyed for me and those patches only. I donít use those colors for anything else. I do not change the sky colors. The background is the black that is shown around the sky. The Biker and Cross will always be Black.