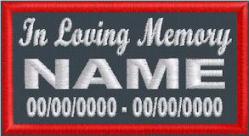 In Loving Memory Patch - Name & Dates - Polytwill
Tropicool Accents Custom Embroidery
$7.50
7.50
In Loving Memory Patch
Name and Dates
Polytwill
SKU ILMPT2LINE
More Details
In Loving Memory Of Patch Name and Dates Polytwill
Please ASK All Questions First if un-sure if a Name will fit or a color needed.
STANDARD FONT for NAME will be used. No Exceptions!
Size: 3.75W x 2.25H
Click on Image to see The Different Background Colors.
This POLYTWILL Is our NEW Material that we will be using to make Regular Patches with. It is a Much Higher Grade material than Most patch makers use, and is also UV resistant..
You will enter the Names and Dates during Check-Out...You will Enter the Name and Dates for the Patch(s) during the checkout process....
All DATES will be in the Number Format.
ex: 00/00/00 - 00/00/00 or 1900 - 2008 for just the years.