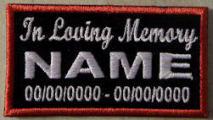 In Loving Memory Patch - Name & Dates Full Embroidered
Tropicool Accents Custom Embroidery
$8.00
8.00
In Loving Memory Patch
2-LINE
SKU ILMFE2LINE
More Details
In Loving Memory Of Patch Name and Dates Full Embroidered
Please ASK All Questions First if un-sure if a Name will fit or a color needed.
STANDARD FONT will be used for Name ONLY! No Exceptions!
Size: 3.75W x 2.25H
Regular Basic Colors like Black, White, Red, Green, Olive, Yellow, Dk Yellow, Gold, Silver, Pink, Hot Pink, Purple, etc,,, are pretty easy...If you have a need for an off the wall color, Please ask first.Be Sure to pick the colors when ordering. You will Enter the Name and Dates for the Patch(s) during the checkout process....
All DATES will be in the Number Format.
ex: 00/00/00 - 00/00/00 or 1900 - 2008 for just the years.