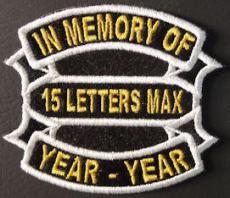 In Memory Of Ribbon and Bar SMALL
Tropicool Accents Custom Embroidery
$8.50
8.50
In Memory Of Patch
RIBBON & BAR - SMALL
SKU IMORandBSmall
More Details
In Memory Of RIBBON and BAR Embroidered with Name and Year - SMALL
Size: 3.5inW x 3inH
Please ASK All Questions First if UN-sure if a Name will fit or a color needed. Regular Basic Colors like Black, White, Red, Green, Olive, Yellow, Dk Yellow, Gold, Silver, Pink, Hot Pink, Purple, etc,,, are pretty easy... If you have a need for an off the wall color, Please ask first. Be Sure to pick the colors when ordering.
The NAME-ROAD NAME-NICKNAME will be NO MORE than 15 LETTERS including Spaces ONLY!!!
All DATES will be in the Number Format.
0000 - 0000 YEARS ONLY will Only be accepted.