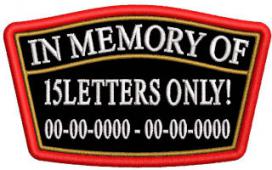 In Memory Of Plaque Patch - Names and Date
TropiCool Accents Custom Embroidery
$8.50
8.50
In Memory Of Plaque
Name and Dates
15 Letters ONLY!
SKU IMOPTPLAQUE2L
More Details
In Memory Of Plaque Patch Polytwill with Name and Dates

Size: 4W x 2.5H
15 LETTERS ONLY!>
Please ASK All Questions First if UN-sure if a Name will fit.
All DATES will be in the Number Format.
ex: 00-00-0000 - 00-00-0000 or 0000 - 0000 for just the years.