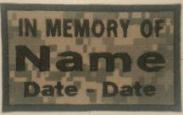 In Memory Of 2 Lines Camouflage ACU Small Version
Tropicool Accents Custom Embroidery
$7.00
7.00
In Memory Of Patch
Name and Dates
-*SMALL VERSION*-
More Details
IN MEMORY OF with Name and Dates
-*SMALL VERSION*-
Custom Patch Motorcycle and Uniform ACU Patches
-*SMALL VERSION*- 3.5"w X 2"h
NEW!
IN MEMORY OF
2 Lines Name / Dates
Camouflage
-*SMALL VERSION*- 3.5"w X 2"h
Business Card Size: 3.5"w X 2"h
Honor those that Gave All
For those serving in the military, This is for you!
Authentic ACU Military camouflage uniform fabric, 50% cotton and 50% nylon (as per military regulations) RIP STOP "non-tear" technology weave.
You will be adding the NAME and DATE(s)
to the patch(s) at Check-out for each patch you ordered.