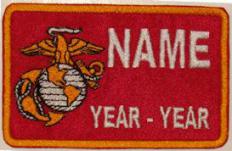 In Memory Of EGA Regular
Tropicool Accents Custom Embroidery
$8.00
8.00
SKU EGAIMOReg
More Details
In Memory Of EGA - NAME and YEAR
Embroidered on our RED or Black Polytwill material..
Approximate size 3.85"W x 2.25"H
As you can see, there is NO In Memory Of on the patch. It is implied with the Years in place..
There is enough room on here to where I can fit in Most cases Their Rank and Name. I will set it up to the best way available.