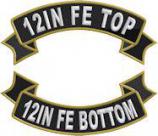 12in FULL Embroidered Ribbon Rocker Set -TOP and BOTTOM
Tropicool Accents Custom Embroidery
$70.00
70.00
12in FULL Embroidered
Ribbon Rocker Set
TOP and BOTTOM
SKU FECRR-12in
More Details
FULL Embroidered TOP and BOTTOM Ribbon Rocker Set 12 in.

Goes well on your Leather or Denim.
Approx Size: 5"H x 12.25"W
The Band width is approx. 2" .. The Height of the Text is approx. 1.5"

This Rocker Set has Many Hours put into it to make it just right.