Tropicool Accents Font Names
Q. Why are there not any font previews?
A. I have over 5,000 fonts. Not all are made to be embroidered.Each Font also can have Various names of such font. So, There is no way to show all those fonts and be able to say I embroider them. If you have a font you wish to us, You Must First Email me with the .TTF or .OTF(TrueType Font or Open Type Font) that you would like to have verified first, before placing your order. Upon receiving your font, you will be told if I can do use it. We DO NOT go to websites to download fonts or to webpages to preview fonts! The reason you must send us the font you want to use is because there will be No Questions on the font used. This list of fonts are the Most commonly asked for, and you should know what they look like, and know how to use them. Below I have Set up a preview of the names. Some of the fonts have been Redone and given a name that is similar to the name that is listed.
YOU are responsible for knowing what your info will look like and how these fonts are to be used.
We have 2 Old English fonts that we use. The Old English MT is like the one in MS Word. The second one is Olde Englishe. It is one of the original OLDE ENGLISHE Fonts created, and Very popular with a LOT of clubs and other folks like Tattoo artist. You can see most/all of the fonts by using Google Images or at www.TTFonts.net or any other Font site.
SOME FONTS FOR POLYTWILL WILL NOT BE AVAILABLE FOR FULL EMBROIDERED NAME PATCHES AND ROCKERS. FONTS LISTED FOR POLYTWILL AND FOR FULL EMBROIDERED WILL BE AS LISTED, AND WILL NOT BE CROSSED.
Also, Fonts listed for certain size patches are as is. If you do not see a font from one size, It will not be used in that size. Fonts shown with all CAPITAL Letters do not come with lower case letters. Not all fonts have all available symbols. In doubt, ASK FIRST.
Like always, its better to ask first.
NEW Available Font List as of 02-15-2020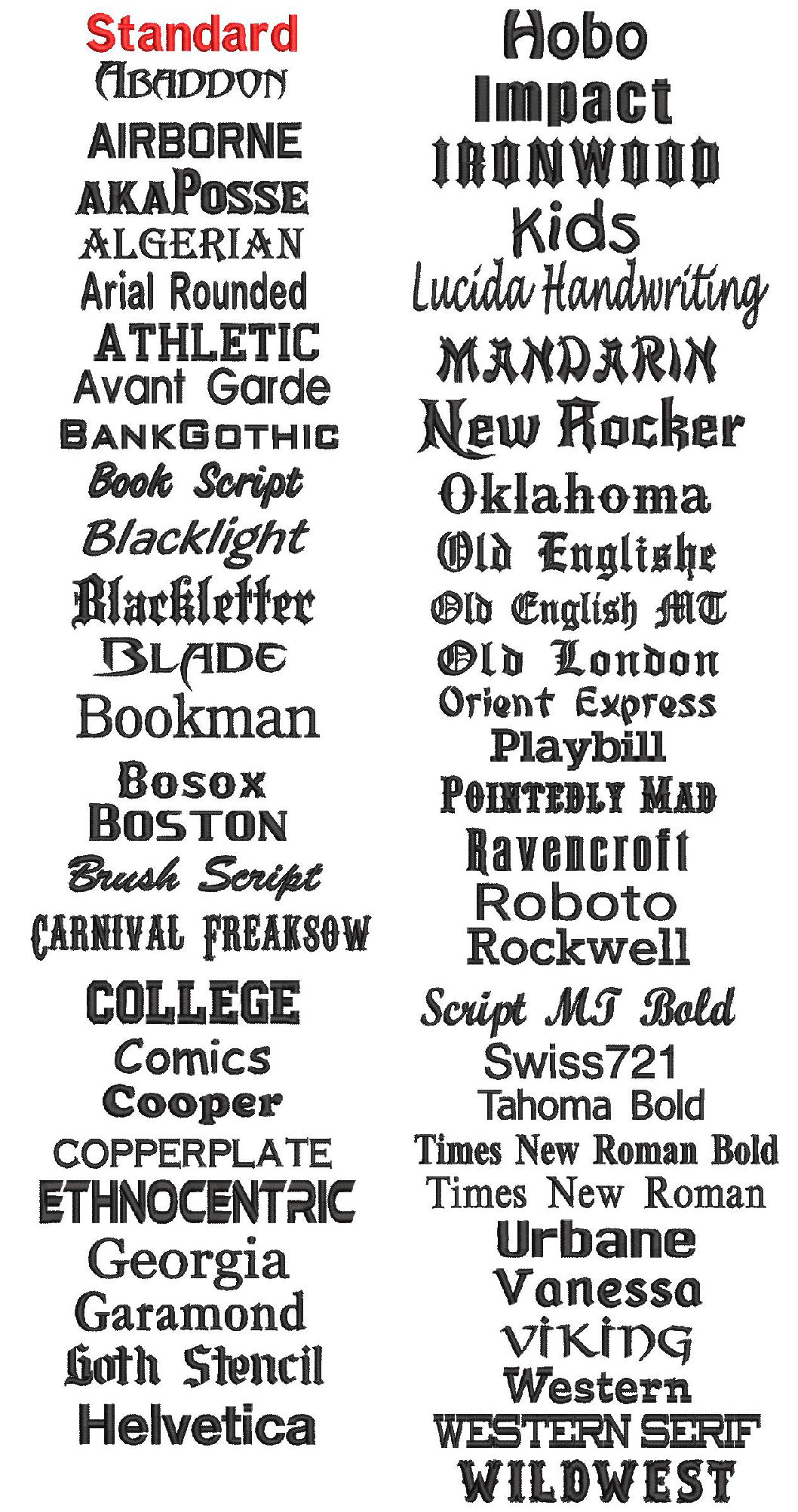 Available Font List as of 10-29-2016

This list can and will change without notice.